The easyfinancial story: from idea to growth engine
an idea is born
easyfinancial was launched in 2006 to fill the gap between traditional banks and costly payday lenders and provides fully-amortizing consumer installment loans to non-prime customers who may have diminished access to traditional bank financing products. Historically, approximately 60% of our customers have been denied credit by traditional financial institutions and are looking for alternatives to the high fees and onerous repayment terms set by payday lenders.
where we stand
Our product offering consists of unsecured and real estate secured installment loans available to Canadian consumers plus a suite of complementary ancillary products. These installment loans range in size from $500 to $25,000 at interest rates starting at 19.99% with repayment periods from nine to 60 months for unsecured loans and terms of up to 10 years for secured loans. Our unique omni-channel business model allows our customers to conveniently transact with us through our national branch network, online, or with our indirect partners.

The estimated size of the Canadian market for non-prime consumer lending is $165 billion, and the demand for non-prime lending products has traditionally been met by a variety of players that tend to focus on a single product versus a broad suite of lending products and services. In addition, since 2009, many of the large international players that were operating in this space have either shut down or exited the market creating a sustainable long-term opportunity for lenders such as ourselves that can effectively offer multiple products across the non-prime consumer credit spectrum.

With the strong market opportunity, our experience in building deep relationships with our customers and a focus on prudent risk management and responsible lending, we are extremely confident about our future.
easyfinancial's loans occupy a critical niche in the marketplace, bridging the gap between traditional financial institutions and costly payday lenders. Traditional financial institutions are unable to effectively offer credit solutions to consumers that are deemed to be a higher credit risk due to the consumer's financial situation or less-than-perfect credit. Historically, approximately 60% of easyfinancial's customers have been denied credit by these same traditional financial institutions. These same consumers prefer to avoid the high fees (which could have an interest rate in excess of 500%) and onerous repayment terms imposed on them by payday lenders. easyfinancial's products appeal to these consumers who are looking for alternatives.
The Company believes that there is significant demand for the products offered by easyfinancial in the Canadian marketplace. Historically, the consumer demand for these loans was satisfied by the consumer-lending arms of several large, international financial institutions. Since 2009, many of the largest participants in this market have either closed their operations or dramatically reduced their size due to changes in banking regulations related to risk adjusted capital reserves, leaving easyfinancial as the only national participant with stated growth aspirations. The Company estimates that the historic Canadian market for unsecured consumer installment loans, consistent with the products offered by easyfinancial, was in excess of $2.0 billion and that this market was serviced by more than 600 retail locations.
the proof is in the numbers
easyfinancial gross consumer loans receivable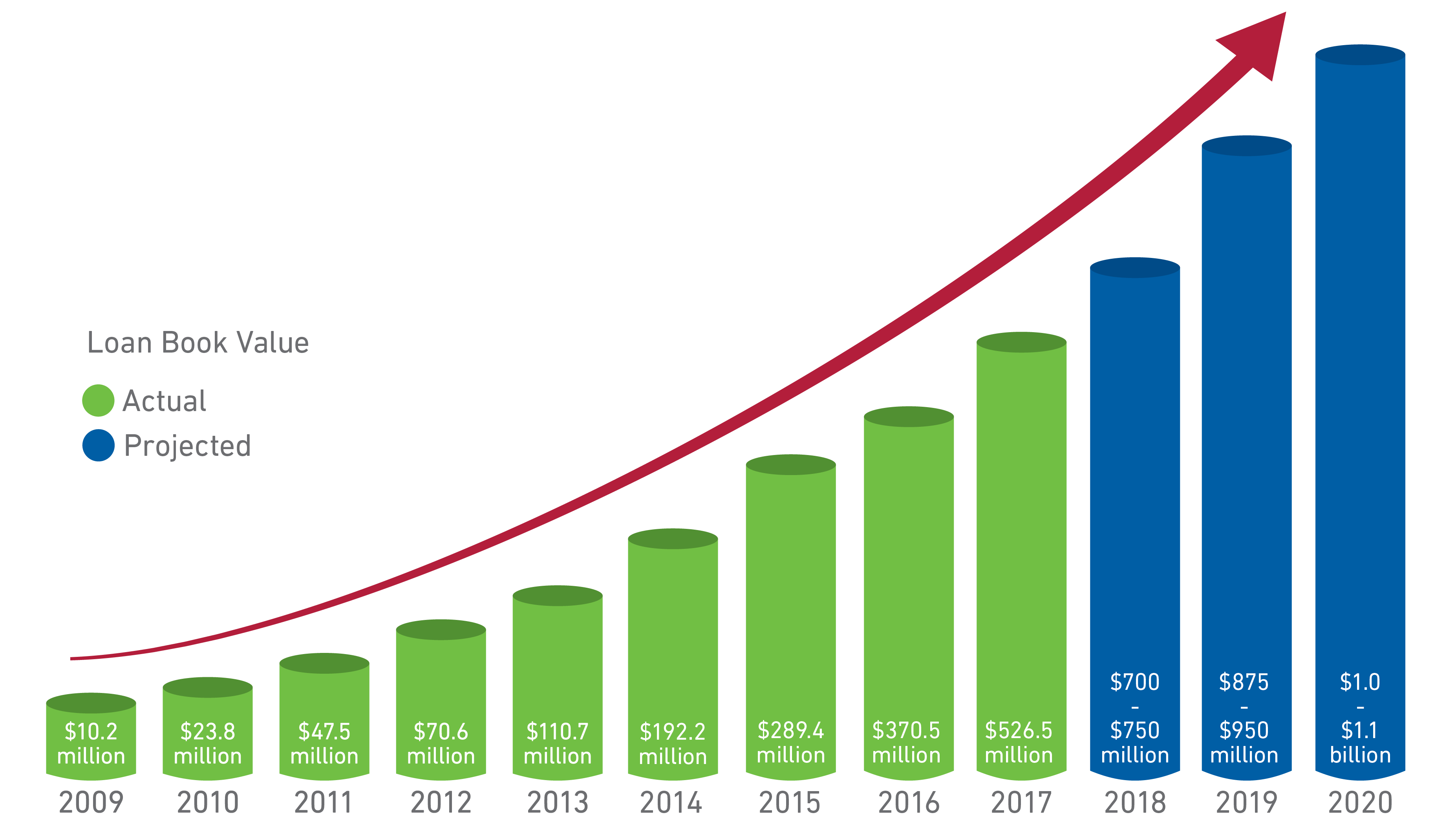 the future looks bright
With our National branch network, market experience in originating over $2 Billion in loans, robust infrastructure and healthy balance sheet that includes our recent closing of a US $325 million high yield debt offering and $110 million bank revolver, we are well positioned to deliver our strongest level of growth to date.